Everything single on iTunes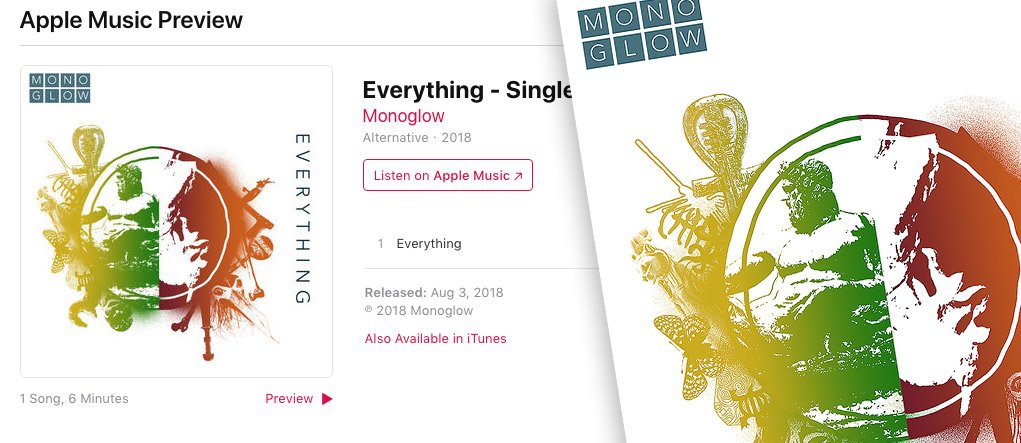 The new single 'Everything' from Monoglow is now available to purchase on iTunes. This is the first vocal-based song to be released. I've previously only had instrument material available in online stores.
It was written and recorded entirely from my home studio, so it's really great to finally see it mixed, mastered and out in the world.
Everything is a moody mid-tempo song reflecting on the tensions between a scientific and a religious worldview. When blind faith says 'everything is wonderful and serene', but ignores evolution and scientific wonder in favour of dogmatic beliefs, this does little to resolve the question about why are we here and, how can we all exist together on this single blue rock spinning through space.
The song contains a mixture of acoustic, digital and environmental sounds recorded in different city locations around Brisbane.
It also features Australian singer Sarah Meharg.
 
Check out the iTunes link below…
I hope you enjoy the single. And if you do, then please share the link.
 
Everything is wonderful
So serene
Imagine a life
With everything
Everything is so good
Almost heavenly
Trouble's reconciled
Just visiting
Visiting
You're praying at the breaking of the bread and the bone
Kneeling down before the cold marker stone
Every single word
Every myth we dreamed
It's our nature
Our base instincts
Everything is beautiful
And ignored
Something really wonderful Has evolved
Wonderful
Wonderful
Hunkered down between the fruit and tree
Taking on the burden and the need